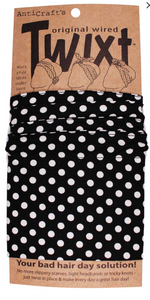 AntiCraft - Wired Head Scarf BLACK & WHITE SPOT SMALL
Regular price $27.95 Sale
Aki was having a bad hair year and the first AntiCraft Twixt was created out of necessity and desperation. The results were inspiring, and when combined with her background in product and graphic design, became the ultimate solution to a making a bad hair day good and a good hair day even better!  Her own bad hair year is long resolved, but her love for 'do rags remains. She's still at the sewing machine most days, creating 'do rags with the same quality and attention to detail as the first ones she ever made for herself.
Super funky cotton print 'do rag headband with inbuilt wire... means no more tricky scarf knots! You just twist in place & you're out the door looking divine! This versatile head scarf can be worn many ways, can suit many different looks, and is your go-to solution for a bad hair day fix in a hurry. Can be perfectly styled to suit your look… great for instant retro, vintage, rockabilly, pin up, roller derby, boho or Rosie the Riveter!

The head band measures a generous 8cm wide and 88cm long (approx.) meaning you can really work it to suit your look – plenty of tail for making a big generous bow; or tuck it under for a sleeker look; make a hat band; fold it in half lengthways for a skinny… or create your own style!

Each 'do rag is handmade with hidden plastic coated wire & lovely soft cotton print fabrics. Her workshop is small and boutique, with a focus on reducing waste, sourcing locally where possible and creating everything with love and excitement for what she does! Feeling gorgeous often starts with great hair, so we've got you covered!