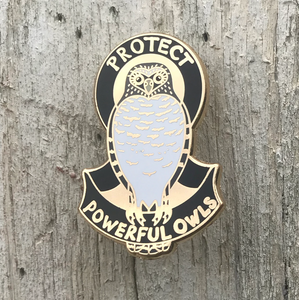 Bridget Farmer - Lapel Pin - Protect Powerful Owls
Regular price $20.00 Sale
This is a fundraiser badge. $5 from each sale will be donated by Bridget to BirdLife Australia who are doing an amazing job protecting our wonderful native birds.
Powerful Owls and other raptors have been dying due to eating rodents killed with rodenticides that includes SGARs (Second-Generation Anticoagulant Rodenticide.) There are plenty of other rodenticides that do not contain SGARs and BirdLife Australia are fighting to bring awareness to this and ultimately get these dangerous products taken off the shelves. You can read more about this here - https://birdlife.org.au/rodent-control
This is a hard enamel lapel pin of a pair of the beautiful Powerful Owl.

Measures 2.5cm wide and 4cm tall.