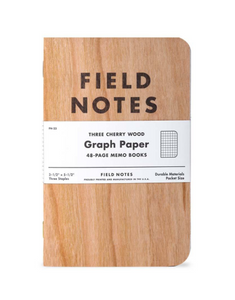 Field Notes - Cherry Graph 3 pack of 48 page memo books
Regular price $24.00 Sale
We all know that paper is made from wood. Cherry Graph features real cherry woodcovers made from actual American Cherry wood, sliced ever-so-thin and bonded to a substrate of kraft paper for durability. Field Notes believe they're the first notebook company to manufacture such a product at such a scale.
Thanks to the natural texture of the wood, no two Cherry Graph memo books are the same but all share their origin in the same few hand-picked cherry trees from Northern Illinois and Southern Wisconsin. The wood covers are sustainably produced, with just a few 60" logs converted into 5000 feet of "Sheer Veneer," with very little waste (the waste is recycled into wood pellets to heat the factory!).
They have black cover text and filled with 48 pages of their tried-and true Finch Opaque Smooth 50#T graph paper inside.