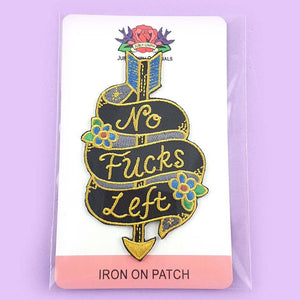 Jubly Umph - No F**** Left Embroidered Patch
Regular price $12.00 Sale
You understand the 'slings and arrows of outrageous fortune', that's why we made this lapel pin: As a little reminder that the slings and arrows are the point of the whole thing. This pin is for those who've run out of fucks to give, and are now just along for the marvelous and thrilling ride...
This fully embroidered, iron-on fabric patch measures about 10cm tall by 7cm wide.
How to apply: Place patch in desired location, set iron to a high setting, Run iron over patch until it is firmly in place (about 30-45 seconds) Ta-da! You're done! For extra security add a few stitches around the edge.