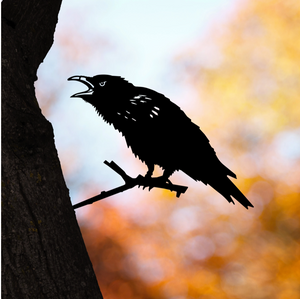 Metalbird - Raven
Regular price $69.00 Sale
Native to much of South and North Eastern Australia, the Australian Raven is the largest species of Corvid in Australia. The territorial call of the Raven is one that is well-known in Australia and can be quite ominous at night time. These birds have incredible minds and it has been discovered that they can remember faces for up to 7 years!
Metalbirds are made from Corten® which is designed to rust. This gives them long term protection against the elements, and a beautiful patina that shifts with the season. This means paint won't stay on for long. If you want to add colour to them, then we recommend having them professionally powder coated. It's easily hammered into most wooden structures and will rust to a deep brown. The hammering of a steel 'peg' into a tree will not do any damage to it. It may cause the tree to lose some sap in the short term but will not do any medium or long term damage to it.
All Metalbirds we stock at Blackbird Corner are made in Melbourne, Australia.
Size: 21cm x 30cm