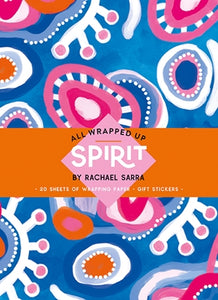 All Wrapped Up: Spirit by Rachael Sarra
Regular price $27.00 Sale
One of my FAVOURITE non hand made products in our little store!
I use these to gift wrap online orders (and gifts at home too!)
All Wrapped Up is gorgeous stationery book celebrating the work of Australia's best and brightest artists. Rachael Sarra is an artist and designer whose work is an extension of her being and experiences. As a contemporary Aboriginal artist from Goreng Goreng Country, Rachael uses art as a powerful tool in storytelling to educate and share Aboriginal culture and it's evolution. Rachaels work often challenges and explores the themes of societies perception of what Aboriginal art and identity is.