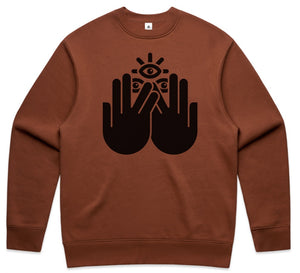 Intuit© Sweatshirt for Him by Anorak®
Regular price $70.00 Sale
Clay Sweatshirt with black print.
Intuit: to know, sense, or understand by intuition. Listen to your inner voice.

Designed and handprinted by Sean for Anorak® in our little studio next to our shop - Blackbird Corner.

Please note: each sweatshirt is hand printed by Sean, so there may be small inconsistencies in print and colour as he is only human. 
The position of the print on each sweatshirt may also slightly vary (for the same reason.) But that's why you're buying an independent designer's creation yeah?
Please consider that colours may vary between monitors.

These sweatshirts for Him by Anorak® are printed on an AS Colour "Relax Crew* using water based paint.

Relaxed fit
Pullover crew, drop shoulder, crew neck
Mid weight, 320 GSM
80% cotton 20% recycled polyester anti-pill fleece, sleeve cuff ribbing
Tear-out label 
How do I best care for my awesome new Anorak Sweatshirt(s)?
HAND WASH IN COLD WATER :: IRON INSIDE OUT :: DO NOT PUT IN CLOTHES DRYER EVER - drip dry somewhere in the shade! Then it'll last you for a crazily long time!