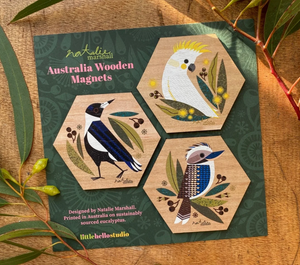 Little Hello Studio Australian Natives Wooden Magnets / Birds
Regular price $25.00 Sale
Australian Birds Wooden Magnet Set
A collection of three of Little Hello Studio's unique wooden magnets featuring Natalie Marshall's original illustrations, inspired by our precious native flora and fauna. This collection includes her Sulphur Crested Cockatoo, Kookaburra and Magpie designs.
Each magnet has its own beautiful tone and grain - features of a lovely natural product. Designed with love and printed with pride in Melbourne on Australian-grown sustainable plantation eucalyptus. This pack is a super little gift to send locally or overseas - a bit of Australia to stick on your fridge. And they are not just pretty - they are also useful. It's a win win!
Each magnet is 75mm x 68mm. The backing card is printed on 100% recycled stock, and measures 155mm x 155mm.